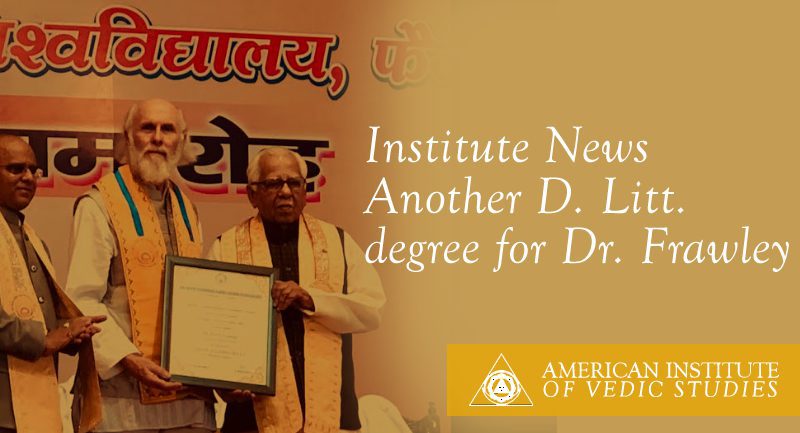 Dr. David Frawley (Pandit Vamadeva Shastri) received a special D. Litt. (Vidya Vachaspati) degree from Ram Manohar Lohia Avadh University in Faizabad-Ayodhya, Uttar Pradesh, India.
The award was conferred at the university's 22nd Convocation, Nov. 3, by Chancellor Ram Naik, the honourable Governor of the state of Uttar Pradesh, and by Vice Chancellor Manoj Dixit.
The main citation is as follows: "The University very humbly submits this Citation and feels honoured in conferring the Degree of Doctor of Letters (D.Litt.) Honoris-Causa on the versatile Educationist of the country Dr. David Frawley for his unparalleled and outstanding contributions to Indian traditions, Yoga, Ayurveda, Vedanta, Tantra, Vedic Astrology, Vedas and Hindu Dharma."
The degree is the second D.Litt. for Dr. Frawley and his fourth major educational award in India.
Uttar Pradesh, with two hundred million people, is the most populous state of India. Dr. Frawley and Yogini Shambhavi were also taken on a special tour of the sacred sites of Ayodhya.