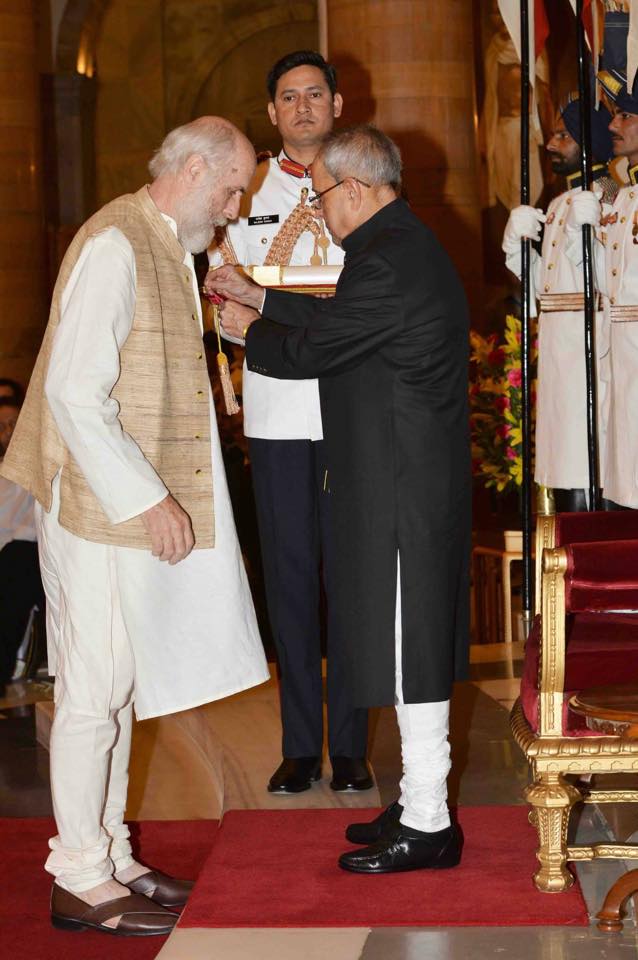 Dr. David Frawley D.Litt. (Pandit Vamadeva Shastri) on March 31, 2015 received the prestigious Padma Bhushan award from the government of India, one of the highest civilian awards granted in the country. He was one of twenty people to receive the Padma Bhushan award this year, which included Bill and Melinda Gates and a variety of important figures from Indian culture and society.
The Padma Bhushan award is given for "distinguished service of a high order" relative to the nation and culture of India. The Padma awards go to a variety of individuals in all fields of life who make important contributions to the national ethos and for humanity as a whole. This year 9 Padma Vibhushan, 20 Padma Bhushan, and 75 Padma Shri awards were conferred by the government of India to notable individuals for their dedicated services. We honor them all.
It is rare for non-Indians to receive Padma awards. It is rare for Yoga, Ayurveda and Vedic teachers. This affords an additional significance to Vamadeva's award. The award will be officially conferred later in March or April by the President of India at a special ceremony at Rashtrapati Bhavan in Delhi.
Vamadeva notes:  "I am most humbled to receive this exalted award from the government of India. I firmly believe that India with its great spiritual and yogic heritage should be the guru among nations, Vishvaguru, and is in the process of awakening to its great world mission that is crucial for the future of humanity.
Though born in the West, I have always been a devotee of Ma Durga and Bharat Mata and sought to spread her great teachings and culture worldwide as well as to help revive it in India.
My main concern has been sharing the great tradition of Vedic knowledge worldwide through Yoga, Ayurveda, Jyotish, Vedanta and Vedic studies on all levels. I hope and pray that all sincere efforts in the fields of Yoga and Vedic knowledge prosper for the good of all. We regard this award as the government of India honoring the value of Vedic knowledge for all humanity.
There are many individuals and organizations in various fields of Vedic knowledge and Sanatana Dharma from different countries who have aided in my work and activities over the decades, including those in the United States, Canada, Trinidad, Brazil, Russia, Bulgaria, Turkey, Germany, Great Britain, and of course India.  We would like to thank them all.
There are several individuals I would like to specially mention, who have been my main guides and inspiration over the years
Sadguru Sri Sivananda Murty who has remained my closest guide and inspiration over the last twenty years.
Swami Veda Bharati for sharing with me the secret of the Vedas as my spiritual brother.
Swami Dayananda Saraswati for showing me the higher teachings of Advaita Vedanta but linked to service as well.
Sri Anandamayi Ma for giving me confidence early on in my search into the deeper Yoga practices.
Sri M. P. Pandit of the Sri Aurobindo Ashram for first publishing my work in India in 1980.
Dr. B.L. Vashta who guided my Ayurvedic studies and as a noted journalist educated me on the social and cultural issues of modern India.
Sri K. Natesan of the Ramanashram who opened up the deeper teachings of Bhagavan Ramana Maharshi and Kavyakantha Ganapati Muni for me.
Dr. B.V. Raman who showed me both the essence of Jyotish as well as the model of a great teacher.
Ram Swarup and Sitaram Goel of Voice of India who instilled in me the need for a renaissance of Hindu Dharma in India and worldwide.
HR Nagendra of S-VYASA, dean of the only deemed Yoga University in India for carrying on the message of Swami Vivekananda.
Sri Lokesh Chandra, now head of ICCR (Indian Council of Cultural Relations) and seniormost Buddhist scholar in India, for his friendship and guidance.
The Prime Minister Sri Narendra Modi and the current government of India for supporting the Sanatana Dharma and conferring this important recognition upon our work.
My wife Yogini Shambhavi Devi for remaining a continual support and inspiration and providing the Shakti for this Vedic mission."
Sri Veda Purushaya Namah!
Jan. 28, 2015