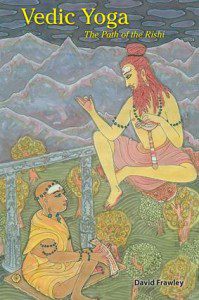 Vedic Yoga: The Path of the Rishi is one of the first and most detailed books ever published in the West on the ancient Vedic origins of Classical Yoga, including all aspects of Yoga philosophy and practice. The book reveals secrets of the Vedic Yoga from the teachings of great modern Vedic teachers including Sri Aurobindo, Kavyakantha Ganapati Muni, Brahmarshi Daivarat, and Swami Veda Bharati, as well as Vamadeva's own insights. It challenges popular ideas of the meaning of Yoga and brings Yoga back to the mantras of the ancient Himalayan Rishis. It explores the Yogas of Knowledge and Devotion, along with Raja and Hatha Yogas, with a special emphasis on Mantra Yoga.
Vedic Yoga is the latest of twenty books in Vamadeva's series of Lotus Press publications on different fields of Vedic knowledge. The book contains a special chapter from Swami Veda Bharati, who has also written the Foreword.
This profound and intricate book from a great Vedic master can serve as a guide to total well-being and complete enlightenment. – Deepak Chopra
David Frawley is one of the most important voices in the ongoing transmission of Vedic knowledge that has already transformed the spiritual landscape of the West. This book is a sparkling gem in his necklace of trenchant commentaries; it will doubtless leave a profound and enduring mark on religious history. -Philip Goldberg, author of American Veda
Vedic Yoga: The Path of the Rishi is a masterful book that takes the reader back to the earliest original sources of the Yoga tradition and in the process presents unexpected pathways of understanding and self-examination.– Subhash Kak, Regents Professor at Oklahoma State University and author of Mind and Self
Vedic Yoga is a treasure for every serious practitioner of Yoga. With profound insight, Acharya Vamadeva (Dr. Frawley) reveals the practical yogic secrets hidden within the symbolism of the Vedas. – Gyandev McCord, author of Spiritual Yoga, Co-founder of Yoga Alliance
In this new book on Vedic Yoga, Charya Vamadeva Shastri (David Frawley), a Vedic Rishi in his own right, not only enhances our understanding of the classical paths of Yoga, but also opens us to inspring hopeful possibilities for a new human consciousness. – Swami Sitaramananda, Acharya, International Sivananda Yoga Vedanta
Ordering details
---

About the author 
Acharya David Frawley (Pandit Vamadeva Shastri) is a world renowned teacher of Yoga, Ayurveda, Vedic astrology and Vedanta and the author of numerous definitive texts in these fields over the past thirty years. He follows the yogic approach of Ganapati Muni, the chief disciple of the great Advaitic guru Ramana Maharshi. His Vedic Yoga book reflects his forty years of translating the hymns of the Rigveda and following a sadhana based upon them. He shows how all of Yoga develops out of the Agni and Soma model of Vedic insight.