2018 Our Special Retreats and Events


Dr. David Frawley (Acharya Vamadeva) and Yogini Shambhavi Devi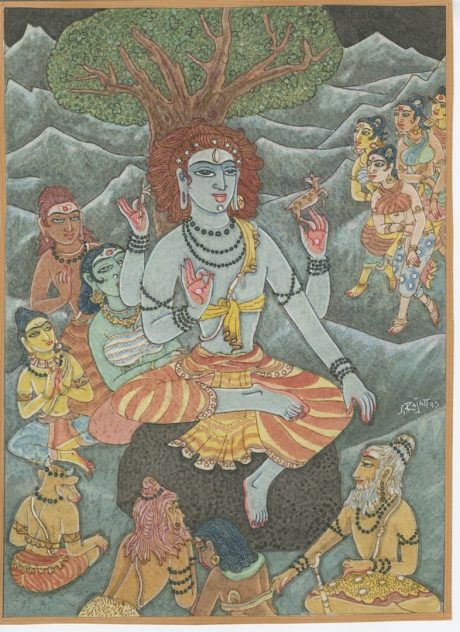 Take transformative programs and have a personal interaction with Dr. David Frawley (Pandit Vamadeva Shastri), one of the most celebrated Vedic teachers of our times, and Yogini Shambhavi Devi, one of India's foremost teachers of Shakti Sadhana from the Himalayas.
Dr. Frawley is regarded as the most respected western teacher of Yoga, Ayurveda, and Vedic Studies in India and the world today. He has received several important honors from India, including the prestigious Padma Bhushan award from the President of India and the National Eminence Award from the South Indian Education Society (SIES).
Yogini Shambhavi Devi is a highly respected Shakti guru in India with many students and devotees throughout the world. She guides students in deeper Yoga, mantra and meditation practices. She offers astrological and spiritual consultations covering all aspects of life.
Please note our Facebook pages for more information on programs, as well as for shorter events not listed below (including Vamadeva and Shambhavi's other India based programs).
---
OUR ELEVENTH ANNUAL INDIA YOGA SHAKTI RETREAT, March 11-17, 2018

We will continue our popular India Yoga Shakti Retreats for the eleventh year at the Glass House above Rishikesh. This will occur in March 11-17 2018. 
For those interested in signing up note the registration form link below.
---
Located a the Neemrana Glass House, Himalayan foothills, twenty five kilometers above Rishikesh on the Ganga, one of the region's premier facilities.
The greatest gift we can bestow on ourselves and the world today is the awakening of awareness in the presence of Every Breath. A conscious, attentive affirmation of our life force or Prana Shakti is the core of every spiritual practice.
Learn the Secrets of Prana with Dr. David Frawley & Yogini Shambhavi, transforming your Yoga Shakti celebration of Yoga, Ayurveda, Meditation, Mantra, Ritual and sacred arati on the banks of the Ganga. Imbibe the energy of the Supreme Shakti in the Light of Supreme Shiva! Special study of the Supreme Prana, the five Pranas, special Pranayama practices, Mantra and Prana practices, Prana Dharana, Prana Dhyana and Prana Samadhi. Secrets of the Higher Prana beyond the mind.
Contact Yogini Shambhavi Devi (shambhavi.yogini@gmail.com) for more information on the Yoga Shakti retreat.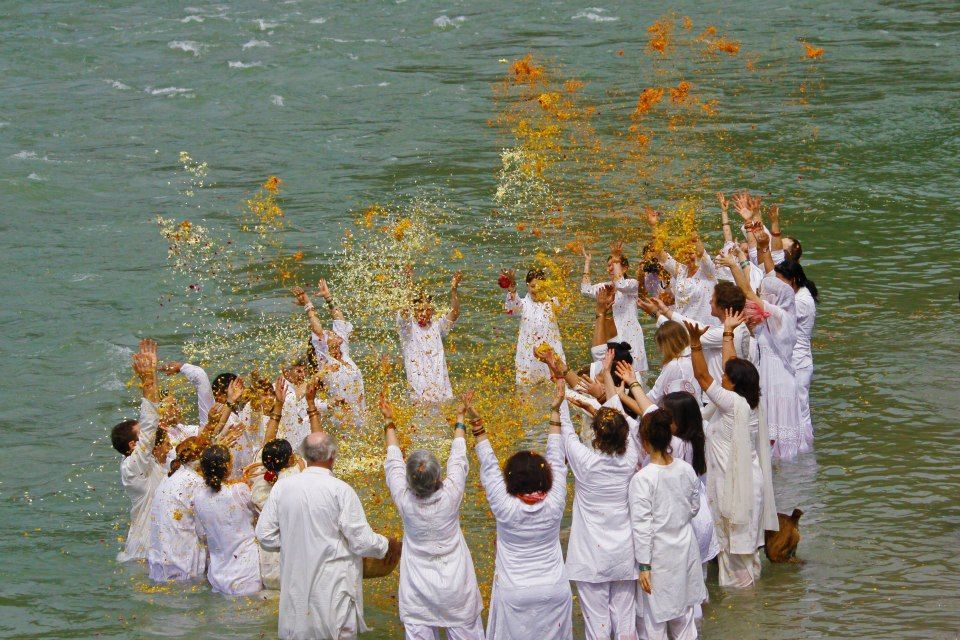 ---
YOGA TANDAVA RAJASTHAN SACRED SITE TOUR, MARCH 3-11
Every pilgrimage draws one closer to one's True Reality. Join us in a sacred journey through Delhi, Mystical Rajasthan, land of desert, kings and sages – Chand Baori Ancient Step Wells, Pink City Jaipur, Lake City Udaipur, Srinathji Krishna Temple in the Aravalli Hills and ending at serene Rishikesh. Organized by the Kapha Collective of Nikhil Chopra (kaphacollective@gmail.com), an affiliated organization to ours.
You can take the tour first and then join us at for the Ma Ganga Retreat. Contact Yogini Shambhavi Devi (shambhavi.yogini@gmail.com) for more information on the Yoga Shakti retreat and  Rajasthan tour as well as the information below.
Includes pictures and descriptions of extraordinary places and sacred sites to be visited during the tour.
---
ADDITIONAL UPCOMING ACTIVITIES FROM OCT. 2017 to MARCH 2018
As of October 2017, we will be returning to India for programs with Hindu Thinkers Meet, Pondicherry (Oct. 7-8), Bharat Rejuvenation Conference, Bilaspur, Chattisgarh  (Oct. 15-17). World Ayush Conference, Dubai (Nov.  9-11),  Jaipur Dialogues, Jaipur Rajasthan (Nov. 18-20), International Conference on the Bhagavad Gita, Kurukshetra Nov. 25-27,  India Ideas Conclave and Indic Thoughts Festival (Goa, Dec. 15-17). 
Dharma-Dhamma Conference (Nalanda, Bihar, Jan. 11-13 2018 , World Vedic Conference Pune Jan. 10-13, 2018, India's Foreign Policy Workshop of India Foundation , Jan. 28 – Feb. 1, New Delhi and other special events. These programs are largely for Indian audiences and cover a variety of subjects. Dr. Frawley is on the organizing committee for the Dharma-Dhamma Conference.

Please note our Facebook pages for more information on programs, as well as for shorter events not listed above including Vamadeva and Shambhavi's other India based programs).
---
ADDITIONAL TRAININGS BASED DIRECTLY UPON OUR COURSES
For affiliated schools offering our courses in different classroom settings, including  in different countries and languages.
---
Ayurveda and Yoga Trainings: Certification and Teacher Trainings Hatha Yoga, Ayurveda and Integral Ayurveda/ Yoga therapy. Includes classroom courses and training based upon Vamadeva's Ayurvedic Healing Course and other teachings. Directed by Ed Zadlo, who has studied with Vamadeva for more than twenty-five years and is one of our Yogacharyas. Regular classes.
---
SIVANANDA AYURVEDA AND YOGA WELLNESS COUNSELOR CERTIFICATION COURSES—
Yoga & Ayurveda Certificate Course, 10-day Training Certification – David Frawley course material – AIVS/Sivananda certification
The certification is provided jointly by Sivananda Yoga Vedanta Centers/ OR Integral Yoga Institute and AIVS (Dr. David Frawley), giving it special value and worldwide recognition.Taught by Durga Leela and Swami Sitaramananda in classroom instruction in beautiful ashram settings. It has been going on over the last three years.
---
Ayurvedic Classroom Training in Canada using our Ayurvedic Healing course material as part of a longer program of instruction and classroom training in the Toronto area, for those who want hands-on instruction and personal guidance. The training is part of a Yoga and Ayurveda school and treatment center run by Yogesh (Greg) and Shankari (Jackie Van Acker), who are among our most advanced students. Also offer Vedic astrology consultations and classes. Regular programs.
---
Spanish version of our Ayurvedic Healing distance learning program for those who want to take the course in Spanish. In addition, advanced Ayurvedic training in Spanish, offered in Spain and Latin America with Dr. Arcangelo Lubrano, who is a trained psychiatrist as well as an Ayurvedic practitioner and student of Vamadeva and Atreya Smith.
---
We are continuing our work with the Chopra Center in terms of the Primordial Sound Advanced Mantra and Meditation Teacher training and its new on-line program through 2018. We have been working with the Chopra Center since their opening twenty years ago and will continue regular webinars with them throughout the year.
---
 CONCLUDED EVENTS OF PREVIOUS YEAR—–
---
OUR  INDIA TOUR AND RETREAT concluded March 2017
MARCH 11-16 2017, GANGA YOGA SHAKTI TOUR AND YOGA SHAKTI RETREAT AT THE GLASS HOUSE ON THE GANGES ABOVE RISHIKESH, INDIA. Our tenth annual India Retreat, for Advanced training in Yoga, Ayurveda, Veda and Tantra, with emphasis on Shakti Sadhana, on the most beautiful site in the Rishikesh area. New teachings by Vamadeva and Shambhavi. Sharing Holi, India's Festival of Colors on the Ganga.
MARCH 3-11, 2017, YOGA TANDAVA NORTH INDIA TEMPLE TOUR. Starting from Delhi through Amristar and Kangra Valley of Himachal Pradesh, western Himalayas, to Rishikesh. Sponsored by Kapha Collective by recommendation of American Institute of Vedic Studies.
---
DEC. 11 – 13, 2016 PATH TO ENLIGHTENMENT – INSIGHT FROM THE VEDIC TRADITION AT THE CHOPRA CENTER – Special advanced training at the Chopra Center, La Costa, San Diego, with Deepak Chopra, David Frawley, Yogini Shambhavi, Suhas Kshirsagar.
OCT. 19-21 FOURTH ANNUAL DHARMA-DHAMMA CONFERENCE, SANCHI UNIVERSITY, BHOPAL INDIA. Dr. Frawley has been an advisor and visiting professor for Sanchi University since inception.
NOV. 4 – 6, INDIA FOUNDATION GOA CONFERENCE. Special by invitation event to perhaps the foremost think tank in India today.
NOV. 12, PROGRAM AT BHU (BENARES HINDU UNIVERSITY, VARANASI). Program on continuity between Vedic and Tantric Traditions, Shiva and Shakti, Shakti Sadhana.
NOV. 19 – 22, JAIPUR, RAJASTHAN PROGRAMS ON AYURVEDA AND ON SANSKRIT organized by Sanjay Dixit IAS.
DEC. 1- 4, WORLD AYURVEDA CONGRESS, KOLKATA through department of AYUSH, govt. of India.
---