NOTE ON CURRENT PROGRAMS AND WEBINARS 
With in person travels reduced because of the pandemic, we will be offering webinars, videos and audios, including with related organizations that we work with. Some webinars will be live, others recorded. Live webinars will be made available in recorded form. We will begin public in person programs again in May 2021.
We also have other webinars that we post on our Facebook accounts, including various conferences we attend. @drdavidfrawley or @americanvedic
---
Live and Recorded Webinars with Dr. David Frawley (Acharya Vamadeva)
---
SOMA IN YOGA AND AYURVEDA – RECORDED WEBINAR
Soma is the energy of Ananda, peace, wellbeing and bliss on all levels of the universe and in the human being. From the healing powers of plants, the healing prana, natural sensory impressions, mantra and contemplation in the mind, to devotion and the yogic state of Samadhi or deep absorption, unity consciousness, Soma can be found in many forms and energies, yet following the same laws and ways of manifestation. We will explore the many layers of Soma in a practical way as Soma Ayurveda and Soma Yoga, from healing herbs to pranayama, mantra and meditation, for health, rejuvenation of body and mind, and connection with the universal forces of immortality. Recorded on Dec 6, 2020. Two hour duration.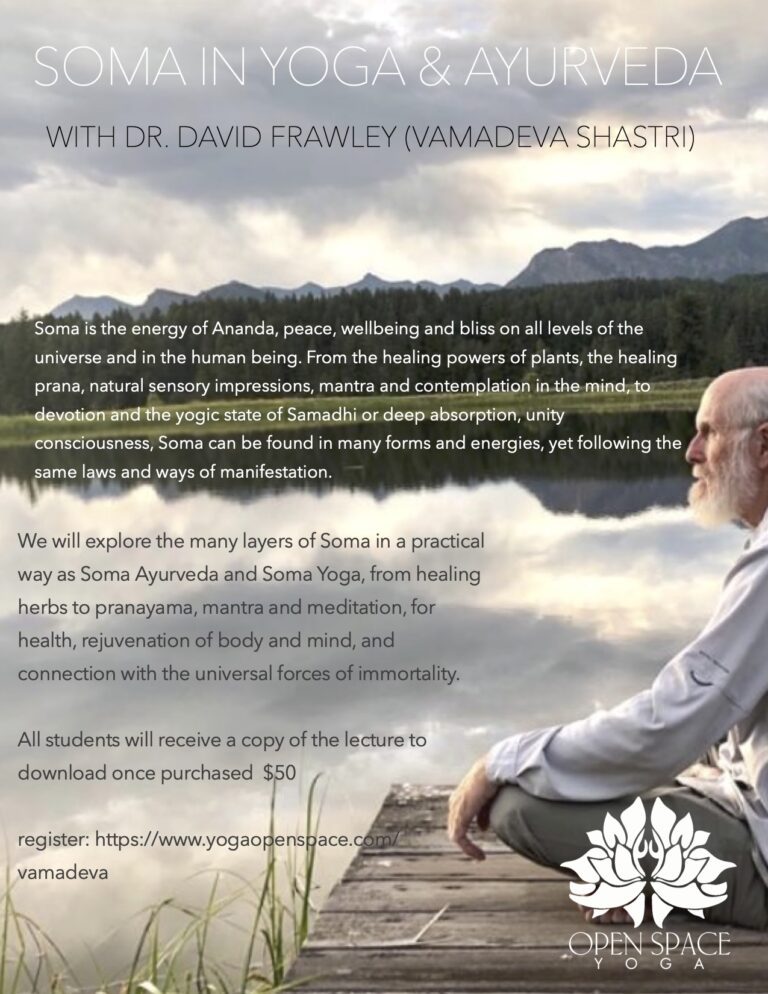 ---
AGNI IN YOGA AND AYURVEDA – RECORDED WEBINAR
Agni is the fire and light energy on all levels of the universe and the individual human being, embracing the Sun and the stars and the light behind the mind. From the digestive fire to the pranic fire, the fire of seeing, fire of the mind and fire of Universal Consciousness, Agni is the key to all healing, purification, enlightenment and illumination. Yet few know how to access the higher Agnis within us. We will explore the many layers of Agni in a practical manner as Agni Ayurveda and Agni Yoga, including how to balance our Agnis and unfold the higher Agnis within us on all levels of body, prana, senses, mind and inner Self. Recorded on Jan 3, 2021. Two hour duration.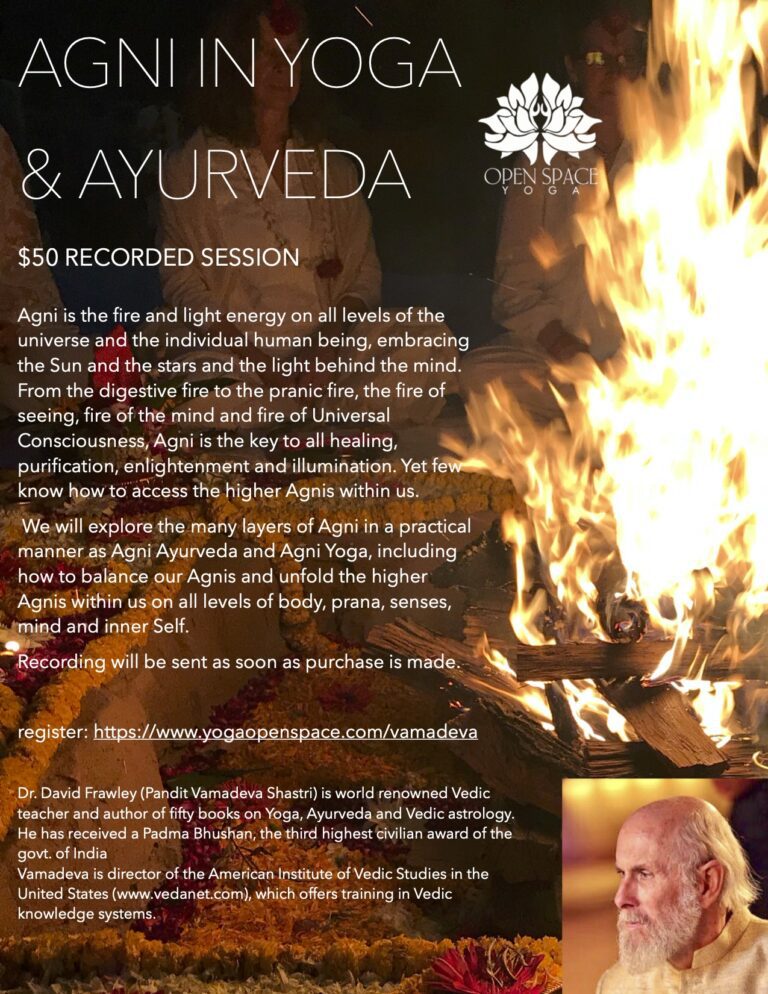 ---
Live and Recorded Webinars with Yogini Shambhavi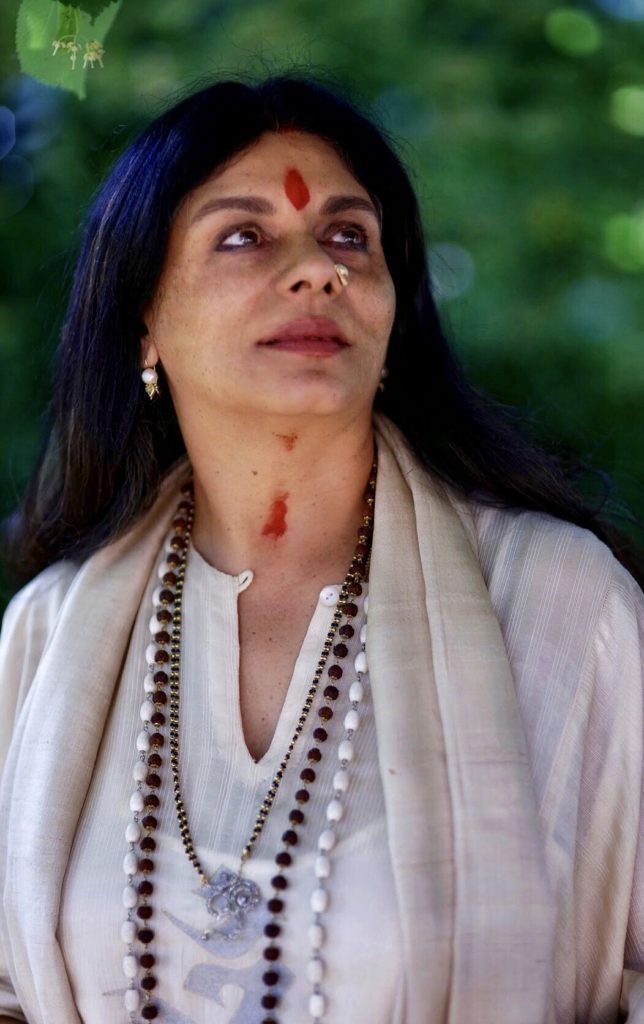 ---
SANKALPA SHAKTI: THE POWER OF SACRED INTENT with Yogini Shambhavi, UPCOMING JANUARY 28, 2021
At Open Space Yoga January 28, 2021 LIVE ZOOM + RECORDED with Yogini Shambhavi 9:30-12:00 Pm Hawaiian Time, 11:30am-2:00 Pm PST, 2:30-5:00 Pm EST, 12:30-3:00 Pm MST, 7:30-10:00 Pm UK, 01:00-3:30 Am INDIA
Join Yogini Shambhavi in exploring the traditional role of Sankalpa in Yoga practice and Integral healing.
Discover and follow your highest motivation in life to fulfill your deepest wishes.
Learn how to develop your inmost aspiration to manifest your yogic potential.
Understand the role of sankalpa and motivation for all aspects of Yoga. It is not just a question of what you do, but how and why you do it.
Your Yoga Sankalpa creates the focus and determination for your Yoga to become transformative.Awakening our Sankalpa Shakti, our inner sacred wish is an intrinsic part of Shakti Yoga sadhana.
Satya Sankalpa is the beginning and end of Yoga.
We will all interact at the end of the session with questions and guidance.
Please Register: https://www.yogaopenspace.com/yoginishambhavi
All participants will receive a copy of the program to download if you cannot make the Live session.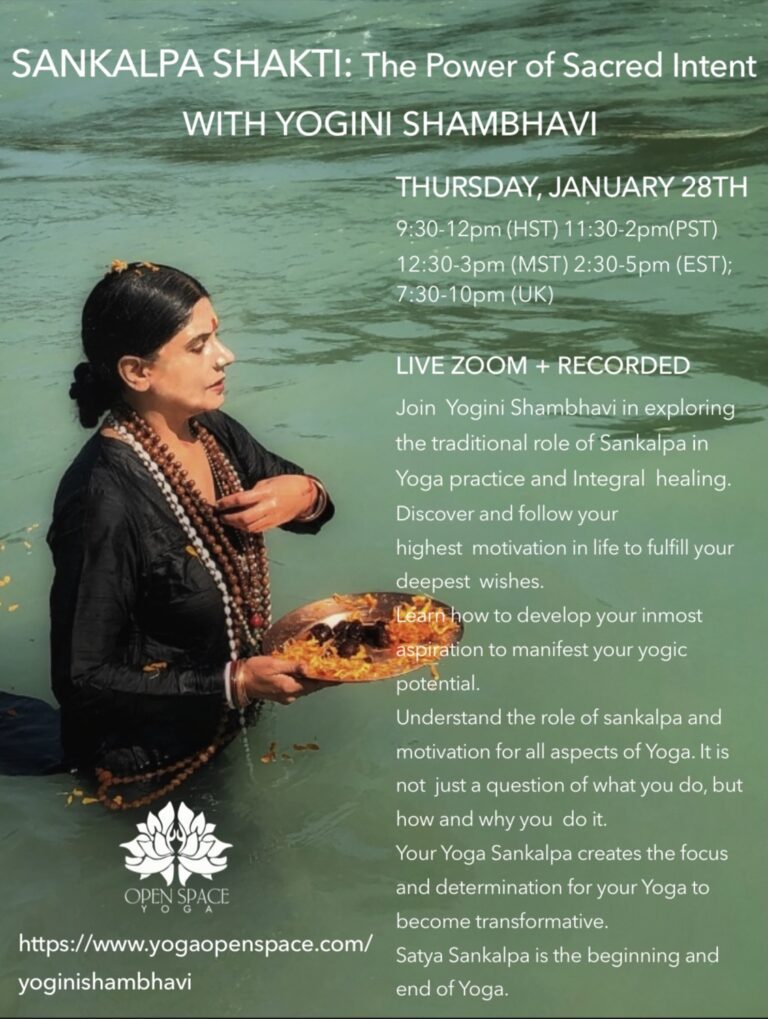 ---
RITUALIZING SHAKTI IN OUR DAILY LIVES WITH YOGINI SHAMBHAVI – RECORDED WEBINAR
Every moment in life must awaken an inner awareness where we are conscious of the forces and divine grace of Shakti around us. Shakti stirs an inner sadhana, honing and fine tuning the subtle nuances of everything life touches, inspiring our spiritual aspirations, expression both spoken and written, outlook to life, connectivity to Mother Earth and Nature. Life for me is a prayer which lingers on my lips as an expression of gratitude for my sheer existence. Yoga Shakti is a beautiful understanding of learning to balance life, embracing the highs and lows, envisioning the positive from the negative and drawing the knowledge from the mind into the heart as wisdom. Learning awakens the thinking power within us, yet experiencing the knowledge creates an inner search for truth. Recorded on Nov 11, 2020
---
THE TRANSFORMATIVE SHAKTI OF INNER SELF-AWARENESS WITH YOGINI SHAMBHAVI – RECORDED WEBINAR
Discerning the Light of Consciousness behind all that we see and do. Receptive awareness unfolds our highest potentials, creating the boundless space for them to manifest, spontaneously releasing negative thoughts and emotions without resistance or conflict. Mantra and Meditation is a way of being and seeing, not merely a technique or practice. Self-awareness is expanding the sense of oneself beyond the boundaries of the mind. Learn the Yogic secrets of Inner Self Awareness to creatively empower your yoga sadhana. Recorded on Dec 17, 2020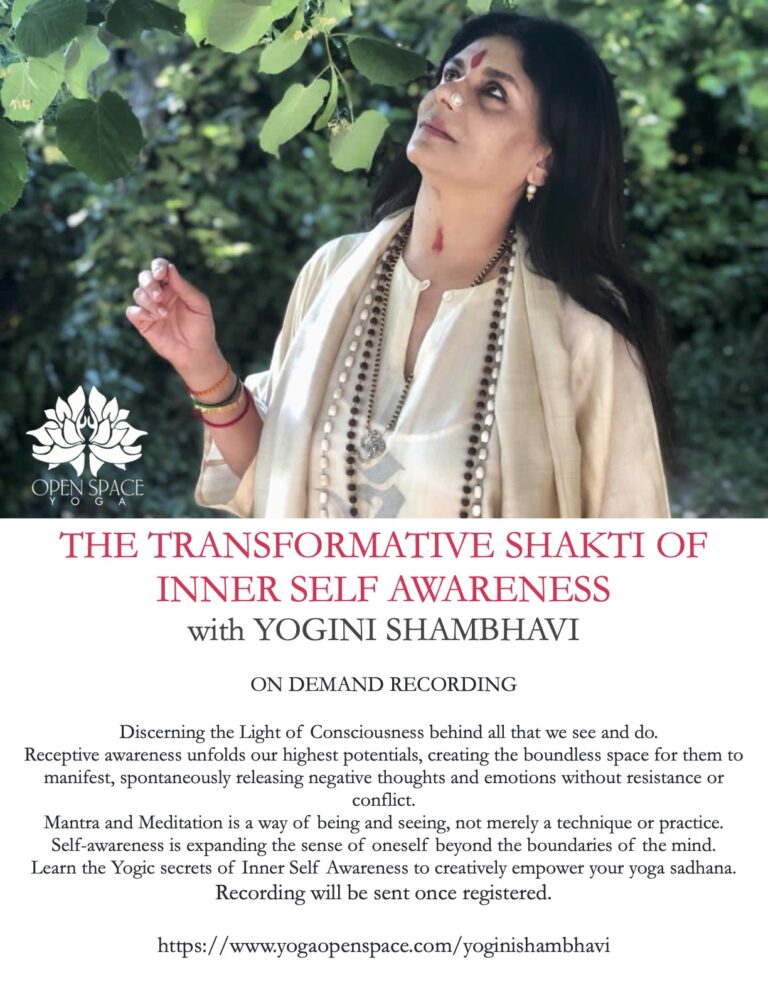 ---
ADDITIONAL TRAININGS BASED DIRECTLY UPON OUR COURSES – AFFILIATED ORGANIZATIONS
---
For affiliated schools offering our courses in different classroom settings, including  in different countries and languages.
---
Ayurveda and Yoga Trainings: Certification and Teacher Trainings, Hatha Yoga, Ayurveda and Integral Ayurveda/ Yoga therapy. Includes training based upon Vamadeva's Ayurvedic Healing Course and Vedic Counseling course. Directed by Ed Zadlo, who has studied with Vamadeva for more than twenty-five years and is one of our Yogacharyas.
---
Ayurvedic Training in Canada using our Ayurvedic Healing course as part of a longer program of instruction in the Toronto area. The training is part of a center run by Yogesh (Greg) and Shankari (Jackie Van Acker), who are among our advanced students.
---
Yoga according to Ayurveda, including teaching our Ayurvedic Healing course, as part of Yoga training with Mary Bastien in Honolulu, Hawaii. Offers webinars of our teachings and online Yoga trainings and events.
---
Spanish version of our Ayurvedic Healing distance learning program for those who want to take the course in Spanish. In addition, advanced Ayurvedic training in Spanish, offered in Spain and Latin America with Dr. Arcangelo Lubrano, who is a trained psychiatrist as well as an Ayurvedic practitioner and student of Vamadeva.
---
We are continuing our work with the Chopra Center in terms of the Primordial Sound Advanced Mantra and Meditation Teacher training and its new on-line program. We have been working with the Chopra Center since their opening twenty years ago and will continue regular webinars with them throughout the year.
---