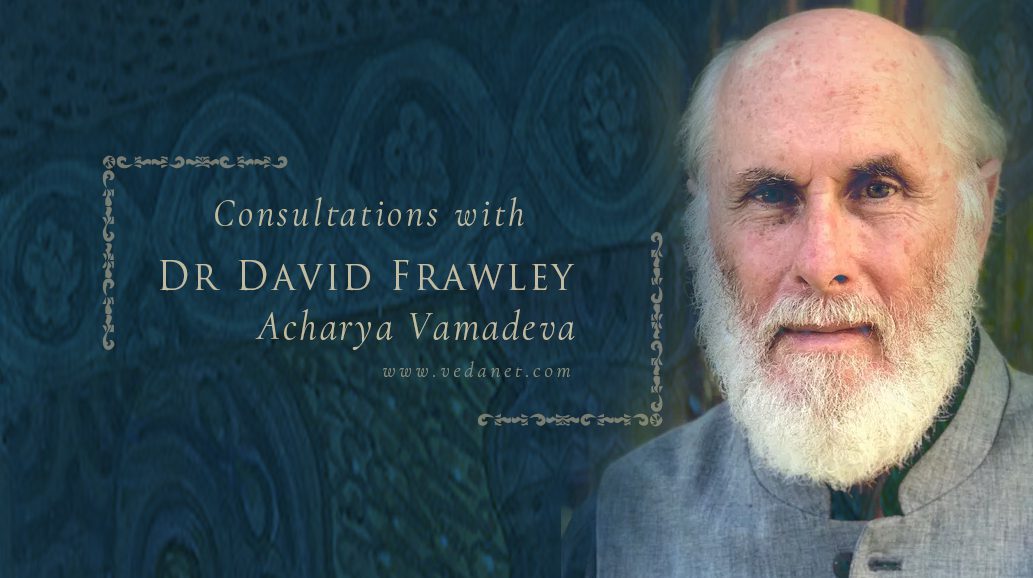 Acharya Vamadeva (Dr. David Frawley) is available for a limited number of consultations, providing Vedic life-guidance using the tools and insights of Vedic Counseling through Raja Yoga, Vedanta, Jyotish, and Ayurveda.
The main issues that he addresses are sadhana (spiritual practice), particularly relative to mantra and meditation and psychological wellbeing.
Addresses concerns of the individual but also those of groups, schools, and organizations, particularly those promoting Vedic knowledge systems and related yogic teachings.
Preference is given to our American Institute of Vedic Studies course students wishing to interact with Vamadeva personally and includes guidance relative to their study, practice or application of our Vedic teachings from the standpoint of Vedic Counseling
Please contact us by email (pvshastri108@gmail.com) under the topic of Consultations with Vamadeva for specific issues involved, pricing and timing. Tell us the type of guidance that you are seeking and the timeline involved. We will send you a consultation form if we are able to address your concerns in a timely manner. Usually, there is a significant waiting list. Consultations are by phone or Skype, not in person, and recording must be done by the client.
---
Dr. Frawley is one of the most highly regarded teachers (acharyas) of Vedic astrology, Ayurveda and Vedic studies in the world today, including honored in traditional circles in India. Note his biographical information. He is one of the pioneers in the Vedic Counseling movement.
Vedic Counseling emphasizes the role of Vedic astrology for overall life-guidance, understanding of time and karma, Ayurveda for the wellbeing of body and mind, and Yoga-Vedanta for sadhana and spiritual practices. Consultations with Vamadeva may include an examination of the Vedic chart as part of a broader range of questions, concerns and counseling considerations, but are not simply Vedic chart readings.
---
Yogini Shambhavi provides specific astrological consultations.
Yogini Shambhavi's consultations cover spiritual practices, emotional well-being, relationship concerns, career, and overall life-guidance, particularly for women. Shambhavi's consultations are clear, direct and practical. She is an excellent Vedic counselor, educator, and guides to help us unfold our highest potential in life.
Remedial measures of mantras, rituals, meditation, and propitiation of deities may be offered according to the deeper teachings of Tantra, Ayurveda and Vedic Astrology, with emphasis on how to access the healing power of Shakti or the Mother Goddess, including specific guidance in Shakti Sadhana.