Featured Online Courses
by Dr David Frawley (Pandit Vamadeva Shastri)
American Institute of Vedic Studies' online courses provide you with a distinct opportunity to learn from Dr. David Frawley (Pandit Vamadeva Shastri) and begin an enduring journey with the timeless wisdom of the Vedas.
Ayurvedic Healing Course

Our Ayurvedic course offers an extensive, yet affordable, online learning approach to Ayurveda and its wellness approaches presented with clarity and depth. This comprehensive course outlines Ayurvedic anatomy and physiology, constitution for body and mind, fundamentals of diagnosis, nutrition, herbs, aromas, sensory therapies, Yoga, spiritual methods and more. It has been used by students from throughout the world over the last twenty-five years and has been the basis for many Ayurvedic training programs. Read more >>

Enroll Now!

Ayurvedic Astrology Course

Our course in Vedic astrology combines a twofold approach of teaching the fundamentals of Vedic astrology, along with their interface with Ayurveda. It provides a good foundation in the principles of Vedic astrology from planets, signs and houses to Nakshatras and ashtakavarga, but also brings in an Ayurvedic perspective, showing how planetary influences impact body, mind and spirit. This makes it especially helpful for those who want to learn Vedic astrology according to an Ayurvedic background. Read more >>

Enroll Now!

Yoga, Ayurveda, Mantra and Meditation Course

Our Yoga, Ayurveda, Mantra and Meditation course teaches an Ayurvedic perspective on the eight limbs of Yoga, as well as the yogic branches of Devotion (Bhakti), Knowledge (Jnana), and Action (Karma), including a full translation of the Yoga Sutras from an Ayurvedic perspective. It helps one to understand Yoga and meditation practices for well-being and spiritual growth according to Ayurvedic guidelines, including an extensive examination of Yoga philosophy. It contains much important information on the healing power of mantra. Read more >>

Enroll Now!
The book is now available at
Counseling revolves around examining what we are doing in life and learning to make our actions more effective. To improve our efficiency we may observe what other people are doing according to current trends in society, and see how to take advantage of these. Yet for any action to succeed at a deeper level, we must understand the forces that we are working with, including those that we have already set in motion. We cannot just look to the outside, we must look within. The first thing Vedic counseling teaches us is that our lives are a product of our own action or karma. Who we are and what we experience, both individually and collectively, is the result of forces that we have set in motion and are ultimately responsible for.  We are responsible for ourselves and to some extent for the world as a whole. Read more >>
News & Upcoming Events

MARCH 2018, OUR ANNUAL MA GANGA SHAKTI RETREAT AND SPECIAL TOUR OF SACRED SITES IN RAJASTHAN; MORE INFORMATION TO FOLLOW IN THE NEAR FUTURE
OCTOBER TO DECEMBER 2018 OUR FALL INDIA TOUR. PROGRAMS WITH JAIPUR DIALOGUES, MORARJI DESAI NATIONAL INSTITUTE OF YOGA, INDIA IDEAS CONCLAVE IN GOA AND DHARMA-DHAMMA CONFERENCE AT NALANDA; MORE INFORMATION TO FOLLOW IN NEAR FUTURE
PREPARING NEW UPDATED WEBSITE AND KNOWLEDGE CENTER
FINISHING NEW INTEGRAL VEDIC COUNSELING COURSE
NEW ALLIANCE WITH VEDIC MANAGEMENT CENTER
THE ART AND SCIENCE OF VEDIC COUNSELING by Dr. Frawley and Dr. Suhas Kshirsagar, now available for ordering.
Our Acharyas
Guide | Mentors | Scholars | Authors | Speakers |
Astrologers | Researchers
---
Acharya David Frawley (Pandit Vamadeva Shastri)
— Founder & Director
Dr. David Frawley (Pandit Vamadeva Shastri) is a western born teacher and guru in the Vedic tradition. Vamadeva is recognized as a Vedacharya (Vedic teacher), and includes in his vast scope of studies Ayurveda, Yoga, Vedanta and Vedic astrology, as well as the ancient Vedic teachings going back to the oldest Rigveda. His many books and courses serve to guide and teach students from all over the world in the fields of Vedic knowledge.
Vamadeva is a rare recipient of the prestigious Padma Bhushan award, one of the highest civilian awards from the President of India, "for distinguished service of a higher order to the nation," honoring his work and writings as a Vedic teacher.
He has a D. Litt. (Doctor of Letters), one of the highest educational titles possible in the field of Yoga and Vedic sciences, from SVYASA (Swami Vivekananda Yoga Anusandhana Samsthana), the only deemed Yoga university recognized by the Government of India, and a special "National Eminence Award" from the South Indian Education Society (SIES) and the Kanchi Sankaracharya Math. Read more >>
---
Yogini Shambhavi Devi
— Co-Director
Yogini Shambhavi Devi is a mystic Yogini, guide and teacher rooted in the ancient teachings and traditions of Shakti worship. As a Yogacharya and Jyotishacharya, a Master teacher of Yoga and Vedic astrology, she provides in-depth guidance and consultations in Yoga, Vedic astrology, and personal healing.
As an important woman guru in the Shakti tradition of India and the Himalayas, she aims to draw one to the deeper 'Yogic Reality', helping to awaken the universal power of nurturing and the Divine Feminine within us. She is a noted author and singer of classical mantras that can invoke the Divine powers within us. Read more >>
---
Latest Articles
Light of the Vedas
Quarterly Newsletter of American Institute of Vedic Studies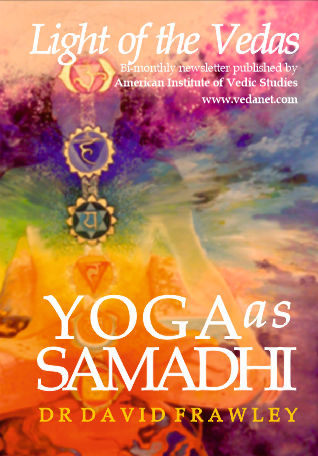 EXCERPT: It has been an amazing year for us and for our work, particularly in the international context. We wish to announce our upcoming India and related retreats for the next six months, for those who wish to join us for special programs and personal interaction. Vamadeva received the important Padma Bhushan award earlier this year from the President of India, Sri Pranab Mukherjee, one of India's highest national awards for distinguished service of a high order to the nation. Vamadeva and Shambhavi both spoke at the main international conference in Delhi to mark International Yoga Day on June 21 and later had a special meeting with the Prime Minister of India, Sri Narendra Modi, which also featured the PM honoring Vamadeva's new book, Shiva: The Lord of Yoga. Since then we have been busy with new programs and courses. We are happy to offer you an important new article of Dr. Frawley, Yoga as Samadhi, in this newsletter, which provides extensive new insight on spiritual experiences and altered states of consciousness. For our upcoming programs we have a special year end retreat in Hawaii, on the beautiful garden island of Kauai, in a beautiful South Indian style retreat center near the north shore of the island, where we will focus on Shiva and Shakti teachings and empowerments. We will include a visit to the famous Hinduism Today temple and the world's largest crystal Shiva linga. 2016 we have two important events in India from late February to mid-March 2016, Shiva Ganga Yoga Shakti retreat, at the Glass House on the Ganga above Rishikesh. We also offer a Yoga Tandava tour organized by Kapha Collective for those who want to experience of the sacred places of Varanasi and Rishikesh and spend time in Delhi, India. Note below for more information immediately below. Read more >>