---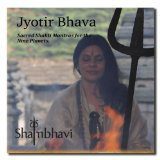 JYOTIR BHAVA
Sacred Shakti Mantras for the Nine Planets ORDER FROM AMAZON.COM.
Format: CD (Can also order through Spotify or I Tunes)
Author: Yogini Shambhavi
ISBN: 978-0-9409-8502-5
Price: $16.95
Publisher: Lotus Press
Seller: Internatural
Description: Jyotir Bhava, the Bhava or 'Mood of the Divine Light', draws one into the celestial radiance of the planets. Jyotish or Vedic Astrology is a sacred science of karma, unraveling all aspects of one's life, destiny and deeper aspirations. Jyotish is said to be 'The Eye of the Vedas', providing us a mystic insight into the play of the cosmic universe.
This wonderful CD contains extensive astrological mantras, including the Vedic Names of Planets, Tantric Names of the Planets, Planetary Gayatris, Puranic verses to the Planets, and more, as well as special Vedic astrology mantras to Ganesha, Shiva, Durga, Kali and the Sun. Yogini Shambhavi is noted for her classical Indian voice and ability to draw the cosmic powers to us through her powerful invocations. The CD is unique in style, format, and expression of devotion. It constitutes a complete Sadhana for promoting positive planetary influences and removing those that are negative.

Yogini Bhava: Shakti Mantra Unfolds the Divine Within, US edition, Lotus Press, $16.95
Click here to order from Amazon.com
Shambhavi has completed her first CD, Yogini Bhava, the 'mood of the Yogini', featuring important mantras to various Hindu deities, including several forms of the Goddess, which was recorded in Bangalore in 2009. The CD has already been acclaimed by such groups as the Chopra Center, Hinduism Today and Sivanananda Yoga. It is regarded as one of the most important and powerful mantra CDs done in recent years, including by those trained in Indian classical music.
The CD contains powerful chants and bija mantras to Kali, Durga, Sundari, Lakshmi, Sarasvati, Annapurna, Shiva, Ganesha, Dattatreya and the planet Saturn. These bija mantras are easy to learn and very powerful for any Yoga sadhana. Shambhavi's deep and melodious voice and her traditional chanting style make for a beautiful and blissful experience. The CD includes wonderful pictures and all the chants along with their translation.