Learn the ancient art of Vedic Counseling and Life-Guidance to live a Vedic life based upon Dharmic values and right management of your Karma. Learn how the Vedic Sciences of Yoga, Vedanta, Ayurveda, Jyotish and Vastu fit together into an integral model of optimal well-being and Self-realization. Add Vedic Counseling to your teaching or healing work. Vedic Counseling is the ancient Vedic art and science of life guidance for body, mind and consciousness. It is the basis for all Vedic teaching and education. It is common to all Vedic disciplines and forms their foundation and interconnection. Learning it provides you the basis for sharing Vedic knowledge with all. Study with one of the foremost teachers of Vedic knowledge today, Dr. David Frawley (Pandit Vamadeva Shastri), D.Litt, Padma Bhushan, trained in all these branches of Vedic knowledge.
Join our unique course in Integral Vedic Counseling, the first in depth course in this profound subject of the wisdom of the Rishis. The course is based upon Dr. David Frawley's extensive work with related Vedic sciences of Yoga, Ayurveda, Vedanta and Vedic astrology. The course teaches us how to integrate these profound Vedic disciplines according to a background Vedic Counseling model that shows us how to communicate their essence with clarity and depth. Gain certification in the new field of Vedic Counseling.
Vedic counseling addresses all aspects of human life, with transformational guidance leading us to physical, psychological, social and spiritual well-being. Though rooted in the ancient Vedic tradition, it is of crucial importance for the planetary age, sharing a timeless vision of human unity with all.
Vedic counseling is relevant to all forms of healing, creativity, life-enhancement, and experiential spirituality. It provides in-depth guidance on how we can lead our lives in an optimal manner for unfolding higher powers of thought and action, to the supreme Self-realization. We can describe Vedic counseling as a Vedic spiritual or yogic counseling, as it looks to the role of consciousness as the key factor in our existence through our many incarnations. It forms the foundation of Vedic education.
This integral approach to Vedic counseling provides the student with key insights into the main Vedic fields of Yoga, Vedanta, Ayurveda, Tantra, Vedic astrology, and Vastu, providing core insights into Vedic philosophy and psychology, Vedic values, and a Vedic way of life of conscious living for the benefit of all.
---
Course Format
The course comes in five on-line volumes or  sections and more than forty lessons, over eight hundred pages of course material.
Course includes illustrations, numerous audios by Dr. Frawley and several videos to enhance the course experience.
The course is a self-study course and allows the student to go at his or her own pace.
There is a three year time limit for completing the course or a reinstatement fee may be required.
The course does not require that the student purchase any books, though additional books are recommended for those interested in the deeper study. The course contains relevant portions of the Art and Science of Vedic Counseling, with an expansion of the topics involved. It includes extensive material on related Vedic disciplines of Yoga, Vedanta, Ayurveda, Vedic astrology and Vastu based upon Dr. Frawley's teachings.
Certification
The course grants credit in "Integral Vedic Counselor: Foundation Course", and 300 hours of credit with our organization.  It grants you special study recognition and credentials as students of Dr. Frawley (Pandit Vamadeva Shastri).
The course helps you become a Vedic teacher, educator, counselor, life-guide and mentor. It provides you a good foundation in the field of Vedic knowledge overall.
Advanced Studies
Students can go on to our other Vedic courses, including Ayurvedic Healing, Ayurvedic Astrology, Yoga, Ayurveda, Mantra and Meditation.
Graduates can get special tutorial guidance from Dr. Frawley personally for advanced study in Vedic counseling.
Integral Vedic Educator Certification available, Ayurveda, Raja Yoga, Vedic Astrology, Vedic Counseling. For those who have completed all our four courses.
---
Vedic Counseling: Nature, Meaning, Orientation & Goals
Vedic counseling is the foundational counseling approach of Vedic philosophy and Vedic healing, which pervades all the Vedic arts and sciences. Through it you can learn the principles of Vedic living, dharmic living and yogic living and how these reflect each other to transform our lives.
The goal of our course is to provide you with a Vedic view of counseling and life-guidance as part of a way of Self-realization as the universal awareness at the core of our own being. Such a transformative approach to counseling today is unique and boundless in what it can offer us for our inner unfoldment.
The course teaches you Vedic counseling according to specific applications, an orientation towards consciousness as the basis of all our potentials, and based upon a deep understanding dharma and karma, helping your understand your life purpose and how your karma reflects it.
---
Aim and Audience for Course
The Integral Vedic counseling course can be taken by those new to the Vedic field of knowledge, providing a good foundation in light of counseling and life-guidance approaches that are relevant to all and cover every domain of life outwardly and inwardly.
The course specifically addresses existing practitioners and serious students of the Vedic sciences (Yoga, Vedanta, Ayurveda, Vedic Astrology, and Vastu). It is designed to guide them in their study, practice, teaching, and communication. The course provides specific counseling principles and methods for those in the Vedic field. This is important, since many Vedic practitioners lack counseling skills and may not have been taught them as part of their studies.
The course can be helpful for counselors in other fields but may require adaptation or additional studies, as well as receptivity to the Vedic view of life.
---
Course  Orientation and Information
Our Integral Vedic Counseling Course is not just a matter of imparting information or helpful techniques. It first aims at teaching and promoting certain values or a way of dharmic living and thinking or what could be called a "Vedic Life" staring with ourselves This implies character development, which is a matter of self-discipline, not simply imbibing information.
The course asks us to recognize the unique nature of each individual and does not give out mass formulas to be applied mechanically. It employs a number of Vedic typologies based upon the three gunas, three doshas, five elements and nine planets to aid in this determination of individual nature.
What Students Can Expect from the Course
The course provides you with detailed knowledge about Vedic Counseling and its main lines of application. You will receive an introduction to Ayurvedic psychology, Yoga psychology, Vedantic philosophy, Vedic astrology and Vastu.
New Students to Vedic Knowledge
Students with a background in the Vedic field will gain an understanding of the basis of Vedic counseling, life-guidance, and the Vedic educational model for personal healing and transformation, to help themselves, friends and family, for understanding their karma and how to live according to their highest potential.
Students of Ayurveda
The course will provide special teachings on Vedic Counseling, detail on Ayurvedic Psychology, and helpful information on Yoga, Vedic Astrology and Vastu. You will gain a better understanding of how to communicate with clients and encourage them in Ayurvedic behavioral modifications and Vedic values.
Students of Vedic Astrology
The course will provide you with special teachings on Vedic Counseling,  detail on counseling in Vedic Astrology, and helpful information on Yoga, Ayurveda, and Vastu.  This course will teach you how through better communication you can be of greater help to your clients in guiding their lives.
Students of Yoga and Vedanta
The course will provide you with special teachings on Vedic Counseling for teaching Yoga and helpful information on Ayurveda, Vedic Astrology and Vastu. It presents Yoga according to its deeper philosophy of Vedanta as a way of Self-knowledge and Self-realization.
By combining Yoga with Vedanta and Ayurvedic psychology for understanding the mind, you can take your yoga teaching to a higher level. You will gain insight into Raja Yoga and its attitudinal, perceptual and behavioral modifications.
Meditation Teachers
The Integral Vedic counseling approach is very helpful for meditation teachers, particularly those who follow a Vedic or yogic approach. It will help you add a full counseling approach to teaching meditation, aiding in psychological well-being and spiritual growth. The course uses the views of Yoga and Vedanta for the Vedic philosophy and practice of meditation.
---
Testing Policy
The course has five final tests, one at the end of each of the five-course sections. These the student must return to the institute for grading by email. Tests consist of around ten questions each. Are open book and can be done at the student's convenience.
Once all five tests are completed the student has finished the course and can be certified by us. Can continue to access the course for the three year period starting when the course was ordered.
---
Course Author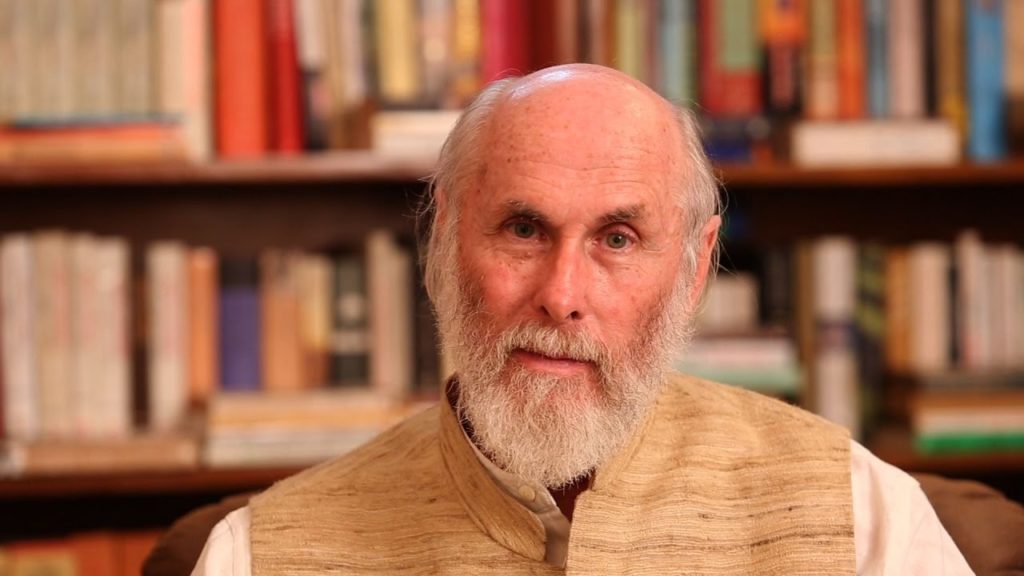 Dr. David Frawley (Pandit Vamadeva Shastri) D.Litt is one of the most respected Vedic educators worldwide. He is the only western Vedic teacher to have received the prestigious Padma Bhushan award, the third-highest civilian award from the President of India, for his work as a Vedic teacher. He was one of the first to receive a prestigious doctor of letters, from SVYASA (Swami Vivekananda Yoganusandhana Samsthana), the only deemed Yoga university in India. He has gained a special National Eminence Award from the South Indian Education Society (SIES) under the auspices of the famous Kanchi Shankaracharya Math, one of the main sites of traditional learning in India. He is associated with many Hindu groups and ashrams.
Dr. Frawley is the author of fifty books published in twenty languages worldwide over the last thirty years. He has direct experience teaching and guiding individuals, groups and organizations in the different fields of Yoga, Vedanta, Ayurveda, and Vedic astrology, and has written extensively on all these topics. He has been part of several important Vedic educational institutes and projects worldwide, including at a national level in India. He is considered to be the most accomplished western teacher of an integral approach to Yoga, Vedanta, Ayurveda and Vedic astrology.