'The summit of purity, of the nature of consciousness, Self-effulgent, of the form of eternal bliss, pervading the entire universe, Your's is the image of perception that belongs to oneself, which is why you should be meditated upon by us within our hearts' – Kavyakantha Ganapati Muni
My prayer is for everyone to embrace the flow of Shakti into their lives as Divine Grace. Jai Ma Guru! – Yogini Shambhavi
Yogini Shambhavi Devi is one of the most important and dynamic women teachers of the deeper aspects of Yoga coming out of India today, widely respected worldwide and in traditional circles in India. Her teachings are rooted in the ancient teachings and traditions of Bhakti Yoga, Shakti Sadhana, Jyotisha (Vedic Astrology), Mantra Yoga and Ayurveda.
Shambhavi is a Yogacharya or master Yoga teacher with deep knowledge of Raja Yoga, Bhakti Yoga and Mantra Yoga. She is our Jyotishacharya or master teacher of Vedic astrology and handles astrological consultations for the institute, providing in depth reading of the birth chart, our karmas and our spiritual aspiration.
Yogini Shambhavi is a mystic Yogini, spiritual guide and educator of ancient Vedic traditions and is noted for her clear, direct, and uncompromising expression, and her ability to inspire seekers from every walk of life. She unfolds the bliss of well-being through Vedic Upayas, ancient rituals, mantra and meditation, drawing one to the deeper 'Yogic Reality', awakening the universal Shakti power within us.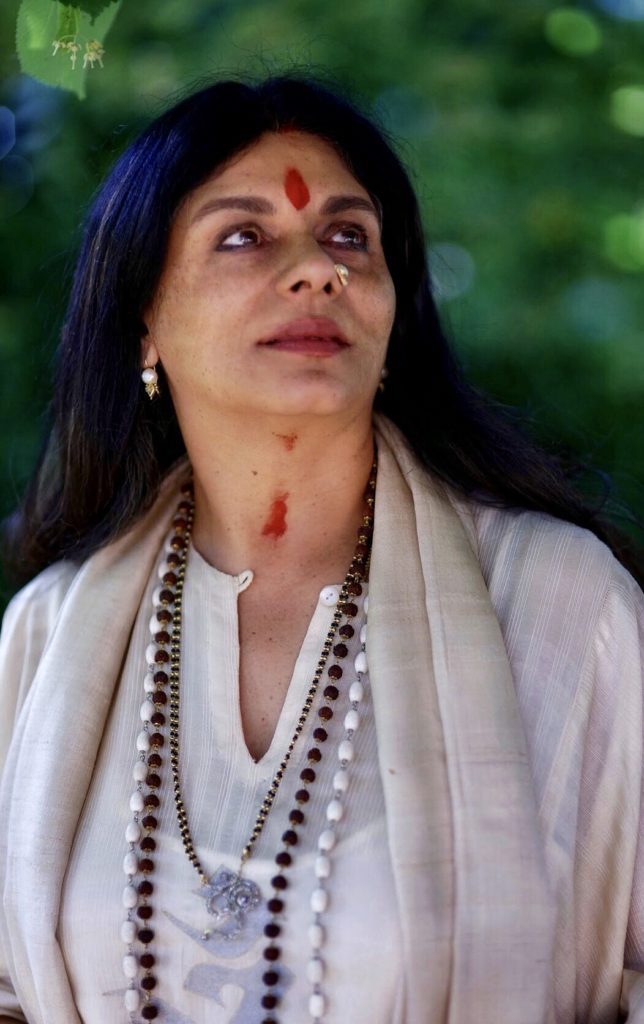 Yogini Shambhavi Devi is devoted to bringing the wisdom of the ancient Rishis alive in our contemporary times. Her teachings and guidance inspire one to experience and celebrate the Shakti path through jnana (wisdom), contemplation, sacred rituals, Devi Sadhana and mantra chanting. She has numerous disciples throughout the world.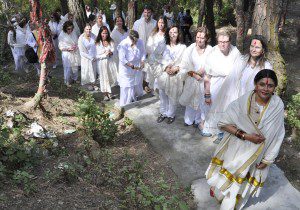 Yoga Shakti Teaching Retreats & Programs – Yogini Shambhavi and Vamadeva Shastri conduct special Yoga Shakti programs worldwide, where they draw the sadhaka or spiritual Seeker into the deeper Vedic and Tantric Teachings of the ancient Rishi culture of India. These Yoga Shakti Retreats immerse spiritual seekers in sacred rituals and mantras through Bhakti Yoga, Vedanta, Ayurveda, Vedic Astrology, and Yoga Asana. The Yoga Shakti retreats are held in different places of special natural beauty and spiritual power worldwide, especially India, and are hosted along with various associated Yoga and Vedic groups, under the guidance of Shambhavi and Vamadeva. Yogini Shambhavi personally guides these retreats and they are a great place to experience her energy and her teachings.
---
Yogini Shambhavi holds the ancient Hindu Shakti yogic spiritual lineage which is Devi Shakti Tantra. With the grace and blessings of many revered Gurus and the guiding force of Sri Satguru Sivananda Murty and Pandit Vamadeva Shastri's Guru-Jnana, she has been teaching and focusing on spirituality in daily life engaging in spiritual and humanitarian teachings and projects worldwide.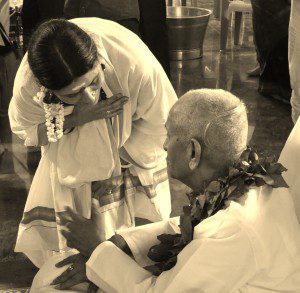 Yogini Shambhavi holds the blessings and divine grace of Satguru Sri Sivananda Murty, one of modern India's greatest gurus, yogis and jnanis steeped in the Sanatana Dharma, culture and Vedic knowledge of India. Satguru Sivanananda Murty was the head of a Sivadvaita-Shaktivisishta order, the Saiva Mahapeetham of Andhra Pradesh, centered in Gurudham at Warangal, but with his home at Bheemli (Vishakhapatnam).
"I have known Yogini Shambhaviji for a long times. As a learned spiritual teacher, she guides many aspirants. She is a true enlightening Guru to many. With Her knowledge of Shakta literature with achievements in that direction in Sadhana, she is an ideal Guide in Shakti Sadhana. With very popular discourses She is acknowledged as a Guru, guide, a scholar and an upright conversationist. She continues to nobly serve the cause of spiritual sadhana in our country and abroad." – Satguru Sri Dr. K. Sivanandamurty (Mahamahopadhyaya, Desikottama)
The transformational power of the feminine is revealed in Shambhavi's remarkable exploration of Goddess Kali. At this juncture in humanity, awakening the feminine offers hope that we can re-establish the balance of forces on Earth for the benefit of all. – Deepak Chopra

Shambhavi relives what she has felt over the years in the blue of the sky, in the enormity of sacred mountains, in her enlightenment within, in the barefoot light of time. She has envisioned Kali as an image of the divinity of man, as what humans make and are not. Her mind is ablaze on the steps of Kali in the waters of her consciousness. Shambhavi sprinkles syllables of milk from the depths of time to breathe the moment eternal, in instantaneous architectures of reflection, and in many colours of meaning. Experience the transformative grace of the Goddess in your own hearts through Shambhavi's luminous vision of Ma Kali as the Universal World Mother. – Professor Lokesh Chandra, recipient of Padma Bhushan, Head of Indian Council of Cultural Relations
Shambhavi writes with the heart of a devotee, the soul of poet, and the insight of a sage. Meditating on the names and qualities of KALI she carries us into the living presence of the Dark Goddess. Kali's awesome glory and unstoppable grace reverberate from every page. – Linda Johnsen
---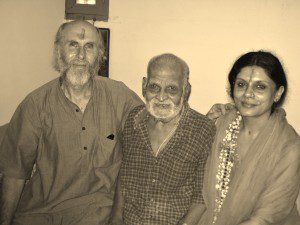 Shambhavi states that her deepest blessing revealed the nuances of tapas in my darshan of Sri K. Natesan one of the oldest disciples of Sri Ramana Maharshi and Seer poet Kavyakantha Ganapati Muni. March of 2009 his magnetic touch transcended the blessings of Bhagwan and Ganapati Muni in an instant of anugraha, the flow of divine grace.
As co-director of the American Institute of Vedic Studies, Santa Fe NM, along with Pandit Vamadeva Shastri (David Frawley) they offer educational programs and trainings, Online and Long Distance Courses in Ayurveda, Yoga and Vedic Astrology as well as Yoga Shakti retreats, Shakta teachings, personal empowerments and workshops in North and South America, Europe, Russia and India.
Yogini Shambhavi offers Vedic Consultations in Spiritual guidance and in Vedic Astrology. She *facilitates one to draw the Shakti power of the Planets as divine grace into all levels of our lives. She has a deep understanding of the western mind and through her astrological consultations she creates an awareness of the 'Planetary Influences' in our lives, guiding one to work through the karmic strains with restorative and harmonising Upaya or Vedic remedial measures.
With Vamadeva Shastri she conducts teachings and programs worldwide. She is a Master Educator for the Chopra Center and has taught at Kerala Ayurveda Academy, Council of Vedic Astrology (CVA), American College of Vedic Astrology (ACVA), National Ayurvedic Medical Association (NAMA), AAPNA, Kripalu, Yogaville, Sivananda Ashram centers, Swami Rama Sadhaka gram, Gayatri Pariwar Haridwar, Sudha Dharma Mandala Brazil, Parmarth Niketan, Berlin and Canada Yoga Festivals, Brazil Yoga for Peace, Chinmaya Mission, Sanchi University, Benares Hindu University (BHU), India Foundation and many more.
---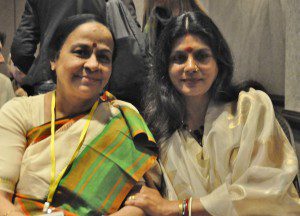 Yogini Shambhavi has authored two bestselling books on the Mother Goddess and Tantra and special CDs of Devi chants and Bija mantras:
Yogini Unfolding the Goddess Within by Wisdom Tree, India
Yogic Secrets of the Dark Goddess by Wisdom Tree, India
Yogini Bhava CD, Shakti Mantras Invoke the Divine Within (Lotus Press USA)
Jyotir Bhava CD, Shakti Mantras for the Nine Planets (Lotus Press USA)